A
If you want to replace your door with a safety door it is important that the new door does not have a deviant color. The color code we use are named either NCS 7020-Y80 or RAL 8016, depending on wich system is used. We are not allowed to change the color profiles, we need to follow the guide lines that were written when the houses were built.
The apartment number can be found on the top corner of your door. This number could be handy remember, as it is this number you use to book the laundry rooms and to make damage reports to HSB.
The community consists of 294 apartments on Sorögatan 29-117.
B
Due to the risk of broken windows and other unfortunate damages, ball games on the association's surfaces are not allowed. Instead, such activity is referred to Kvarnbackaskolan's schoolyard or Kvarnbacka football field.
First rule is to make sure the smoke does not bother your neighbours. Because of fire regulations, the types of grills are restricted to what kind of apartment you have:
Apartment with balcony: Only electric grills are allowed.
Apartment with patio: Coal- or gas grill may be used if it stands on some kind of structure (i.e. legs or stand). Just make sure it is set up at least five (5) meters from the building.
One-time-use grills are
not allowed
because of the risk of fire. Always make sure to have water neraby in case of emergency. If you use and electric grill, switch of the power before using water. Check Stockholm kommuns website to see if there is a fire-/grill ban before you start barbequeing.
When renovation the bathrooms, Fanö will pay the expenses for new ball valves and a new floor drain. Contact the Board for more information, or read our Information about bathroom renovations. When you are renovating the bathroom, it is important that this is done by a contractor with so called "wetroom competence" (behörighet för våtrum). After the work is done they will have to give you a document that garanties you there will be no problem with leakage or dampness. If any damage would occur, Fanö will pay for the work of tearing up and drying out, but the resident will themself have to pay for the restoration. This is why it is important to have condominium additional (bostadsrättstillägg) on your insurance.
On the proprties there are several bike sheds available. They are free of charge. However, to get a key you will need to pay a deposit of 500SEK. They payment is done through HSB. When you return the key to the Board you will get your deposit back. To gain access to the bike sheds, please email cykel@fano.se
Bahnhof delivers internet to all households with a speed of 1000 Mbit upstream and downstream. This is included in the monthly fee. It is also possible to order IP TV and IP telephony, which you have to pay for yourself. Contact Bahnhof for selection, prices and ordering.
C
Twice a year we host a yard cleaning. It is nice if as many residents as possible could come and help. Dusting, litter picking and repaintings are some of the tasks that may need to be done. Participating in the cleaning is also a nice way to get to know your neighbours. After the work is done we serve fika.
The stairs are cleaned by a cleaning service. If you have any input or concerns, please contact the Board.
D
As of right now, Fanö does not have any contracts on disturbance calls. If you wish to report a disturbance, please do so by email to the Board. If you hear fighting or some other kind of ongoing crime – contact the police.
E
The association has a joint electricity agreement with Ellevio (electricity network owner) and Luleå Energi (electricity trading company). Each household pays for its consumption, which is invoiced via the same invoice as the monthly fee. Since the invoices are sent out quarterly, there will be a delay, but you pay one month at a time. There is an app to track your electricity consumption, it's called Boendeappen Avy and can be used by whoever is written on the address. Use the QR codes below to find the right app.
QR codes for the electricity consumption application Avy.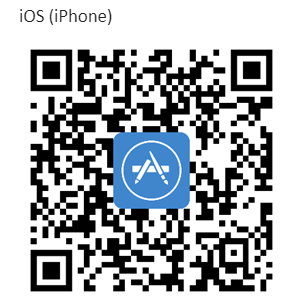 There is no entry code for the doors to the buildings. You need either a key or the tag to open the doors.
However you can program your own temporary code:
Use your tag on the keypad
Press star (*) + the desired code + star (*).
The code will now work for 2 hours
If you want to de-activate the code press star (*) + 0 + star (*). The temporary code will then de-activate.
F
Our own information leaflet. Published once a month, except for july. All of our Fanö News leaflets can be found in the archives.
Fireworks are not allowed to be fired inside of Fanö. You need to be 18 years of age to buy and use fireworks, and be sober when using. If you are to use a big amount of fireworks, you might need a permission from the police. For more information about this, visit their website. Please make sure to be considerate, espacially to the pets of Fanö and the other communities.
Because of safety reasons, flower boxes are not allowed to be hanged on the outside of the balcony. If they were to fall down they could inflict serious harm on people, animals or property.
Every month a small amount of money is depositet to the apartments internal fund. If you would like to make a withdrawal, download the form and print it. Fill the form and send it to HSB Stockholm.
G
There are two garages available for the residents of Fanö. To rent a space in the garage, please call 010-442 11 00. In the garages you are only allowed to store your cars. Not tires, junk, chemicals, gasoline and such. This is to prevent the risk of fire.
Garbage chutes in the stairs and on the yard
In the garbage chutes you throw away houshold garbage in closed plastic bags. Smaller cardboard boxes may be folded and/or cut and thrown here too. Don't leave any trash laying beside the chutes, as no one else will throw it away.
Electrics shed behind Sorögatan 95
This is for disposal of electric waste, such as coffee makers, toaster, tv's and computers. This shed is behind Sorögatan 95 and has the number 42. It is open 24/7 and is emptied regularly. DO NOT – leave white goods/appliances (such as freezers, dish washers, dryers) here. Most stores that deliver the new ones to you will take care of your old one.
Recycling station the Kista Gallerias south east entrance.
You can leave glas, metal, plastic, paper, cardboard and batteries here.
Recyclingstation at the Shall gas station next to Sorögatan
This station will take care of pesticides, paint, oil, batteries, light bulbs and more. The key can be picked up at the gas stations register.
Recycling station in Bromma
"Bromma ÅVC" (återvinningscentral – recycling station) is the newest and most modern station in Stockholm. On one side of the station you can get a wagon to cart your garbage to the containers. The other side is more "traditional" as you drive up to each container in your car. Open monday – thursday 10:00 – 20:00, friday – sunday 09:00-17:00.
Find it!
Recycling station in Lövsta
Lövsta ÅVC is situated in the outskirts of Hässelby and is an alternative to Bromma ÅVC, for the population in Kista. Open monday – thursday 10:00 – 20:00, friday – sunday 09:00-16:00.
Find it!
Recycling station in Rissne
This station is not owned by Stockholm kommun and because of this people living in Kista is not allowed to use this station. Bromma ÅVC and Lövsta ÅVC are the stations we are allowed to use.
I
Every apartment has an outlet for broadband. They are connected to Telenors fiber optic network. Internet access is payed by a part of the fee for your apartment. The speed is 250/100. Contact Telenors customer service at 020-222 222 to set up. Specify that you are calling from BRF Fanö. In the monthly fee for the apartment VoIP is also included. Contact Telenors customer service at 020-222 222 to set up. They will send you a box that you plug in to the phone-jack. Then you can use regular phones to make calls over the Internet.
K
Unless necessary, car traffic is not permitted on the properties. Should you need to unlock the gates a standard gate-key can be bought at most well-sorted key-shops, for example in Kista Galleria.
The kitchen fan above the stove top is a part of the properties ventilation and may not me removed or changed by the resident.
L
Fanö has a leisure committé that plans yard parties and fika at spring- and fall cleanings. Other activities has occourred. Contact information to the committé can be found on the Boards page.
M
HSB Servicecenter handles the apartment administration (transfers/demise, renting of garage and parking spaces, among other things). They can be reached by phone at Servicecenters number: 010-442 11 00, between 08:00 and 16:00 on weekdays.
P
Fanö has parking spots along Sorögatan for rent. Contact HSB Servicecenter (010-442 11 00) to place in the que for a parking spot. Please read the Rules regarding parking.
There are guests spots at Sorögatan 29, between houses 67 and 95, and at 117. The cost is 10:- per hour, or 60:- for 24h. If there are available spaces you can park at Fyngatan, at a maximum of two hours between 7 am and 8 pm on weekdays, except for mondays between 8 am and 12 pm. On weekends the parking is free. Please do not block the garages!
Parking ban
Please observe that along Sorögatan parking is prohibited. Parking is also not allowed at the ends of Fyngatan and Sorögatan. Parking in front of the gates will block emergency services from accessing the properties and is therefor not allowed.
Following rules apply to those living in apartments with patios:
The flowerbed is allowed to be at a maximum of 120 centimetres, measured from the back of the shed.
If you want a fence it needs to look like your neighbours fence, for uniformity. Maximum height is 100 centimetres and it needs to be mounted on the back edge of the shed.
The resident makes sure the area is cared for.
Nordstaden Stockholm cares for the property maintenance at Fanö. Damage reports can be done by phone at 08-587 801 00 (open all the hours of the day).
Damage report online
There is also information on the notice boards in the stairs.
R
S
Installation of satellite dished must be approved by the Board before the work commences. It is forbidden to place the sattelite dishes outside of the balcony or the patio. It is also not allowed to mount them to the outside walls or to sheds, because of safety concerns. Click here to find the application form. Fill it and leave it in the mailbox at Sorögatan 45.
It is a requirement that all apartments have at least one smoke alarm installed. If you live in a small apartment, we advice you to put the smoke alarm just outside the bedroom. In a larger apartment, a second one can be put just inside of the apartment door. Make sure to change the battery in each smoke alarm at least once every year.
Because fire prevention reasons – no items may be placed in the stairs. Bikes are to be placed in the bike racks or bike sheds. Strollers can be placed in the sheds. To not interfere with the cleaning of the stairs, no door mats or shoes are allowed to placed outside your apartment door. Big flower pots on the floor are not allowed, but smaller ones on the windowsills are allowed as long as they are cared for. If you are renovating or transporting waste we ask you to cover the big mat in the entrance to make sure that the cleaning afterwards runs smoothly.
If you buy a new stove, make sure it is using three-phase electric power (400V/16A) and AC power plugs. The plug looks like a regular grounded power plug, but with more and bigger pins. To be sure, pull your stove out from the wall and check behind it. Maybe the former resident already got a new stove and installed a new socket. Ask the store you buy the stove from to take care of your old one, so you won't have to transport it to a recycling station. Remember, it is not allowed to throw your old stove away at the electrics shed on the property.
Subleasing is only allowed after permission from the Board. A written request is needed. Get the form, fill and sign, then leave it to the Board in the mailbox on Sorögatan 45. The board will then, among other things, do a credit check on the subleasing tenant. After the request is approved the apartment is allowed to be subleased. Get the form here
T
To every apartment there is, except for the keys, three black "tags" and one red. The black ones go to the buildnings front door and the red one to the laundry rooms and their booking system. If you are to lose one of the tags they can easily be disabled and a new one can be made to a cost of 100SEK. Send an email to the Board with your name and apartment number. A new tag will then be made and sent to you together with an in-voice.
Fanö has a tire storage at Sorögatan 29 where you can store your car tires. This is free of charge. Open hours of the storage (spring and fall, when the tires should be shifted) are announced in Fanö News. Access to the tire storage on other hours will cost 200SEK and can be payed by either cash or Swish. Booking is done by email to dack@fano.se.
The buyer always have the obligation to examine and a resposibility to make sure that the apartment fulfills the demands on it by Fanö, and that no rebuilding that violates the statues or swedish standards. The Board recommends you to hire an independent surveyor.